Custom Vinyl Blinds
Reliable Window Coverings for the Home or Office
Looking for affordable and reliable window coverings? Look no further than Bumble Bee Blinds's vinyl blinds! With timeless style and durability, they are perfect for any room in your home or office. We offer a wide range of styles and colors to suit your needs, along with a free design consultation to customize things. Enjoy professional installation and warranty with all our custom window treatments!
The Benefits of Vinyl Blinds
Vinyl blinds from Bumble Bee Blinds are more than just a window covering – they are a smart investment for your home or office. They offer a range of benefits:
Durability: Our vinyl blinds are designed to withstand the test of time. They resist scratches and stains and are not easily warped by heat or humidity.
Easy Maintenance: Vinyl blinds require minimal maintenance. A simple dusting or quick wipe with a damp cloth keeps them looking fresh and clean.
Light Control and Privacy: These blinds give you complete control over the amount of light entering your room and provide excellent privacy when closed.
Cost-Effective: Vinyl blinds are affordable, offering the look of more expensive materials without breaking the bank.
To aid your decision-making process, don't forget to try out our cutting-edge visualizer tool. With this tool, you can preview how different styles and colors of vinyl blinds will look in your space before making a purchase. Invest in vinyl blinds with confidence at Bumble Bee Blinds.
Get started today with a free design consultation from our team – contact us now at (844) 387-1716!

Read What People
Are Buzzing About
"They have a large selection and helped us decide on what would be best for our particular situation."

Thomas C.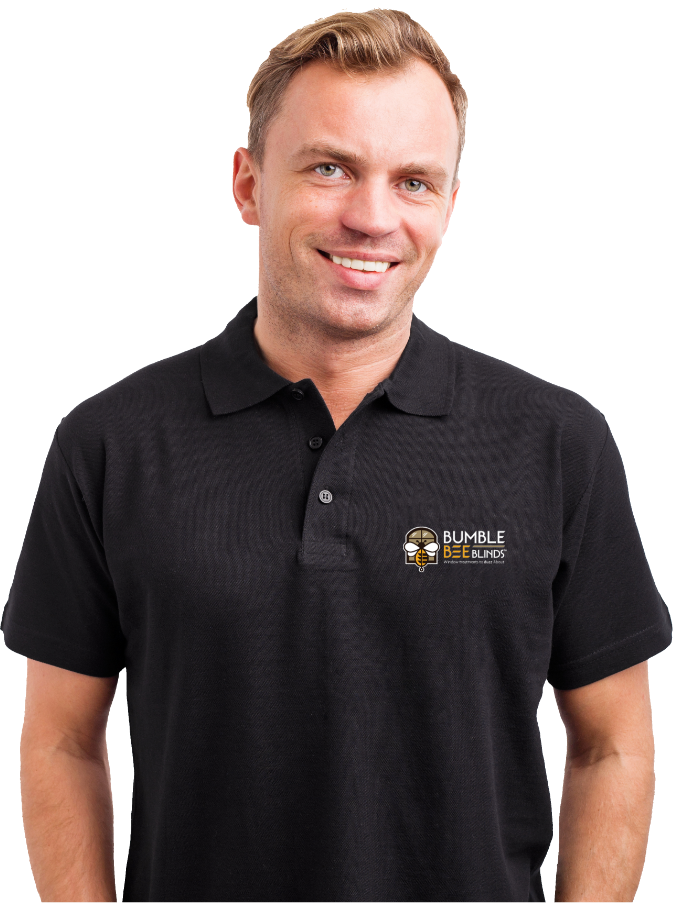 Best Interior Styles of Vinyl Blinds
One of the reasons vinyl blinds are greatly admired is due to their remarkable versatility that complements a plethora of interior styles and designs. They can effortlessly blend into any decor, adding a touch of elegance and functionality. Here are five styles and designs where vinyl blinds shine:
Minimalist Design: Vinyl blinds fit seamlessly into minimalist decor with their simple, clean lines. Choose a monochromatic color scheme to accentuate the sleek aesthetic.
Industrial Style: The robust and functional nature of vinyl blinds makes them an ideal choice for industrial interiors. A darker shade can perfectly offset metallic finishes and brickwork.
Rustic Charm: For rustic or farmhouse-style interiors, consider vinyl blinds in earthy tones or wood grain textures, adding a cozy and warm vibe.
Modern Contemporary: The versatility of vinyl blinds allows them to adapt to modern contemporary styles. Opt for bold colors that pop against neutral backgrounds.
Traditional Elegance: For traditional decors, choose vinyl blinds in subtle, muted tones. Their timeless elegance enhances the classic charm of the space.
Remember, the right choice of vinyl blinds can dramatically transform your room's ambiance and overall aesthetic. Choose wisely with the help of Bumble Bee Blinds! Our Design Consultants are available to offer expert advice and help you select the best option for your needs.

Find Your Buzz-Worthy
Window Treatments