Outdoor Shades
Patio Shades & Other Exterior Window Treatments
Looking to enhance your outdoor spaces? Bumble Bee Blinds offers top-notch exterior window treatments for your pool, deck, and patio. Our products ensure shade, privacy, glare reduction, and temperature regulation, letting you enjoy the outdoors comfortably all year long whether you're relaxing at the end of a long day or simply enjoying your backyard with friends and family.
Types of Outdoor Shades We Offer
With our extensive knowledge and expertise, we provide you with the tools and inspiration to create the perfect outdoor oasis. Some of the most popular outdoor shades we offer include:
Patio Shades
Motorized Shades
Exterior Roller Shades
With such a wide variety of options, it can be challenging to select the right window treatment that perfectly fits your outdoor needs. But worry not! Trust in our experienced and dedicated team at Bumble Bee Blinds to guide you. From design to installation, let our team make the most out of your outdoor living area!
Let's get this party started – dial (844) 387-1716 to schedule a no obligation quote with our team!
Styles That Benefit from Outdoor Shades
Outdoor shades make a fantastic addition to nearly any space, effortlessly blending functionality and aesthetics. Their versatility allows them to complement a wide variety of interior design and architectural styles. Here are just a few styles that particularly benefit from outdoor shades:
Modern Minimalist – The clean lines and sleek design of outdoor shades perfectly suit the simplicity of modern minimalist spaces.
Coastal – Outdoor shades can add a layer of privacy and sun protection without detracting from the beautiful ocean views in a coastal home.
Rustic Farmhouse – Neutral-toned outdoor shades can add to the warm, natural aesthetic of a rustic farmhouse.
Industrial – The rugged appeal of outdoor shades can enhance the edgy, bare-bones aesthetic of an industrial space.
Traditional – For homes with a classic architectural style, outdoor shades can provide a timeless and elegant touch.
No matter your current style or design ideas, we can find a solution that suits your vision! And with our visualizer tool, you'll be able to see it for yourself digitally well before any final decisions are made.

Read What People
Are Buzzing About
"They have a large selection and helped us decide on what would be best for our particular situation."

Thomas C.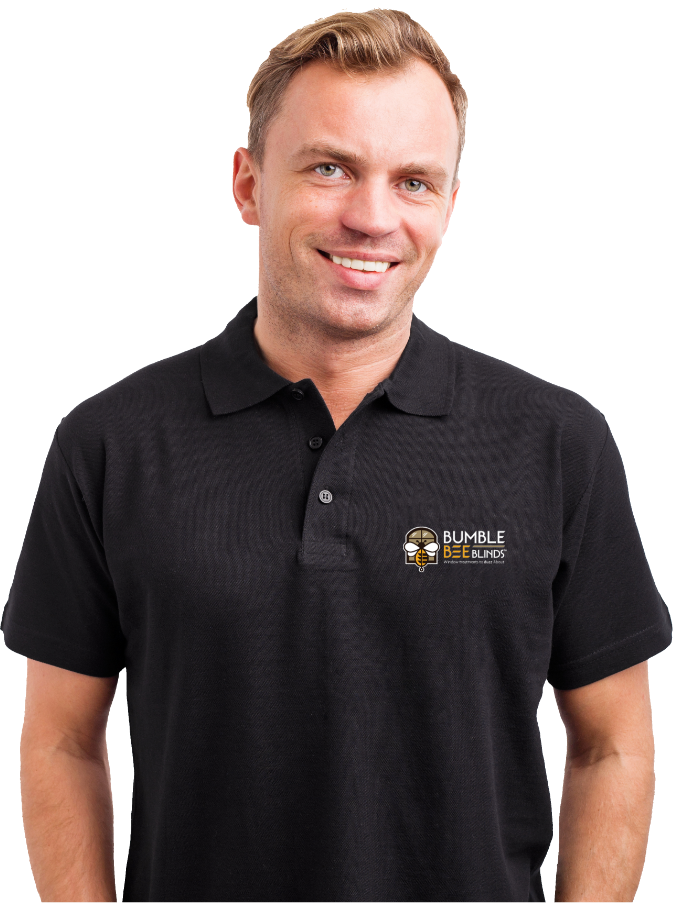 How to Get Outdoor Window Treatments from Bumble Bee Blinds
Join us in creating the outdoor sanctuary of your dreams with our exceptional range of Exterior Window Treatments. Experience the perfect fusion of style, functionality, and outdoor comfort, and elevate your pool, deck, and patio areas to new heights. Our professional installation and repair process for outdoor window treatments include:
Book a consultation: Connect with our Design Experts to share your window shade aspirations and queries.
Get a quote: Following your discussion, our Expert will offer a free quote covering materials and setup.
Installation/Repair: After approving the quote, our team will promptly begin the installation or fix any issues with your shades.
Relish your revamped area: Leave the details to us, from inception to finale. Once done, you'll be thrilled with the beauty and utility of your new window shades.
We understand the importance of long-term value and trust. To underscore our commitment to excellence, we provide a comprehensive warranty on our products and services. This warranty not only safeguards your investment but also offers you unparalleled peace of mind. Your satisfaction remains at the forefront of everything we do!
Get the shade your patio needs and the UV protection you deserve – (844) 387-1716 to request a free design consultation!

Find Your Buzz-Worthy
Window Treatments