Motorized Window Treatments
Automate Your Home with Function & Style
Experience unparalleled convenience and efficiency with motorized window treatments from Bumble Bee Blinds. With options to raise or lower your residential or commercial blinds and shades via remote control, phone app, or voice command, our motorized window coverings make hard-to-reach windows easy to access and safer, plus offer a wide range of stylish options to choose from.
Motorized Window Treatments We Offer
Seeking a 'movie theater mode' or a high-tech touch for your home? Bumble Bee Blinds offers top-brand motorized window coverings to fit your needs. We offer a range of products from top brands including:
Motorized Window Shades: These are perfect for rooms where you want to control natural light and create a cozy atmosphere. They work well in bedrooms, living rooms, and home theaters, allowing you to easily adjust brightness and privacy.
Motorized Window Blinds: These are ideal for spaces where you need precise light and privacy control. Perfect for offices, conference rooms, and kitchens, they let you effortlessly adjust sunlight while maintaining comfort.
To help you make the right choice, and the window treatment process easier, Bumble Bee Blinds offers free, no-obligation design consultations, professional installation, and workmanship warranty. We'll always ensure you find the perfect blend of function and style!
Take your window treatments to the next level – dial (844) 387-1716 for a free design consultation!
Best Interior Styles for Motorized Window Treatments
Motorized window treatments are not just technologically advanced, but aesthetically pleasing too. They can seamlessly fit into and enhance a multitude of interior design styles, infusing the space with both function and style. Here are common design trends where motorized window treatments can make a significant impact:
Modern Minimalist: With their sleek lines and high-tech appeal, these treatments complement the stripped-down aesthetic of modern minimalist design.
Industrial: The mechanical aspect of motorized blinds fits right in with the "form follows function" ethos of industrial spaces.
Contemporary: For homes with a contemporary design, motorized window treatments add a touch of modern convenience that aligns with the emphasis on comfort and simplicity.
Mid-Century Modern: The clean, sleek look of these window treatments pairs well with the retro-futuristic vibe of mid-century modern design.
Virtually Any Style: Thanks to their versatility, motorized window treatments can be an ideal choice for any style of home or business.
No matter your style, our motorized shades and blinds offer convenience, efficiency, and safety! These smart solutions seamlessly combine style and function, creating spaces that look great and work perfectly for you.

Read What People
Are Buzzing About
"They have a large selection and helped us decide on what would be best for our particular situation."

Thomas C.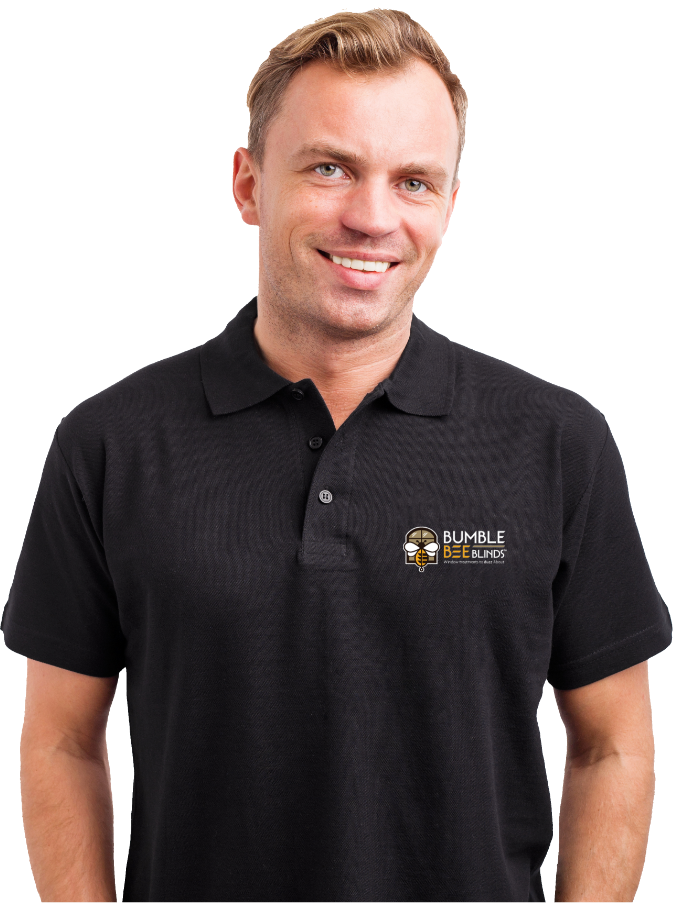 How to Get Motorized Window Treatments from Bumble Bee Blinds
Embarking on your journey to modernize your spaces with motorized window treatments is a straightforward process with Bumble Bee Blinds. Here's a simple step-by-step guide what you can expect from our team during installation and repair:
Consultation: We'll discuss your needs, preferences, and the specific requirements of your space, providing tailored advice on the best motorized window treatments for you.
Installation: Our team of expert installers will fit your chosen window treatments with precision and care, ensuring they function as intended and look fantastic in your space.
Service and Maintenance: Over time, we'll perform regular maintenance checks and servicing to keep your treatments operating optimally. This includes checking motor functionality, adjusting settings as necessary, and making any repairs.
Support: Our commitment doesn't end once your treatments are installed. We're always on hand to provide advice, answer questions, and address any concerns you may have.
Rest assured, choosing Bumble Bee Blinds means choosing a service dedicated to your satisfaction and peace of mind! With every installation, you can expect stress-free service and reliable treatments that are sure to last.
Ready to get started? Call us at (844) 387-1716 to request your free design consultation and custom quote!

Find Your Buzz-Worthy
Window Treatments