Custom Roman Shades
Get More Out of Your Window Shades
Discover the perfect blend of functionality and elegance with our custom Roman shades at Bumble Bee Blinds! We're experts in high-quality, customizable window treatments that not only enhance your home's aesthetic but also offer optimal light control. From picking out the best style to professional installation, trust our team to be there every step of the way!
Benefits of Roman Shades
Roman shades are more than just a window treatment. They offer an attractive and versatile solution to meet your unique needs and style preferences. Here are some benefits that make Roman shades the ideal choice:
Stylish and Versatile: Roman shades come in a variety of fabrics, colors, and patterns to perfectly complement your home décor.
Light Control and Privacy: With their adjustable design, Roman shades give you full control over light while providing desired privacy.
Energy Efficient: Roman shades provide added insulation, keeping your space comfortable and potentially saving on energy costs.
Easy Maintenance: Roman shades are easy to clean and maintain, ensuring long-lasting appeal.
With a myriad of benefits, Roman shades from Bumble Bee Blinds are a smart, sophisticated, and practical way to enhance your living environment! To see if Roman shades would be a good fit for you, reach out to our knowledgeable design consultants today.
Dial (844) 387-1716 to request your free, no obligation design consultation!

Read What People
Are Buzzing About
"They have a large selection and helped us decide on what would be best for our particular situation."

Thomas C.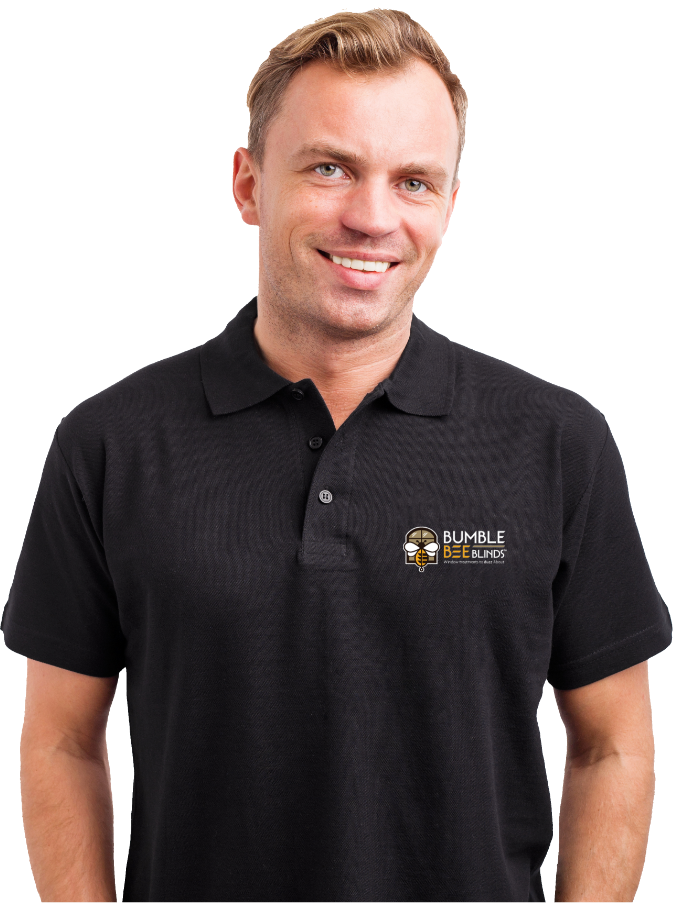 Interior Styles Best Suited for Roman Shades
Roman shades are a versatile addition to any design aesthetic, seamlessly integrating into a variety of architectural styles. Their tailored appearance and clean lines bring refined elegance to your decor. Here are some of the most popular styles complemented by Roman shades:
Classical: Roman shades originated from ancient Rome, so they naturally pair well with classical architecture and design, enhancing its grandeur and elegance.
Modern: The streamlined, minimalistic look of flat Roman shades complements the clean lines and simplicity of modern design.
Rustic: Soft Roman shades, especially in natural or earthy tones, can enhance the warm, welcoming ambiance of a rustic home.
Cottagecore: The billowy folds of hobbled Roman shades can add a touch of cozy, whimsical charm to cottagecore aesthetics.
Coastal: The subtle beauty of light-filtering Roman shades, in their light and airy tones, effortlessly complements the breezy and relaxed ambiance of coastal homes.
Remember, the key to a harmonious design is to balance the elements. The inherent versatility of Roman shades and our expert design consultants make it easy to achieve the perfect balance of form and function!

Find Your Buzz-Worthy
Window Treatments