Custom Vertical Blinds
Professional Installation for Your Window Treatment
If it's time to upgrade your windows, vertical blinds are one of the most affordable and timeless solutions. Not only do they add privacy and light control like all window blinds, the vertical slats come in a variety of colors and materials that can tie together many décor styles. Bumble Bee Blinds' vertical blinds can be customized, put up with professional installation, and backed by a trusted warranty, ensuring you have the best fit for your home or business!
Benefits of Vertical Blinds
Vertical blinds are an incredibly cost-effective addition to any home or office, offering a blend of benefits that shouldn't go unnoticed. Some of the key advantages include:
Versatility: With a range of colors and materials to choose from, vertical blinds can complement any type of style when done right.
Light Control: The adjustable slats allow precise control over sunlight entering your space, creating the perfect ambiance at any time of the day.
Easy Maintenance: Vertical blinds are easy to clean and maintain, making them an ideal choice for busy households or offices.
Durability: Built to endure, vertical blinds promise long-lasting performance and sustained beauty, offering great value for your investment.
During our free design consultation, we'll delve deeper into these benefits, tailoring the perfect vertical blinds solution for your unique needs. At Bumble Bee Blinds, we're committed to ensuring a seamless, hassle-free experience from selection to installation!
Call us at (844) 387-1716 to schedule a design consultation today!

Read What People
Are Buzzing About
"They have a large selection and helped us decide on what would be best for our particular situation."

Thomas C.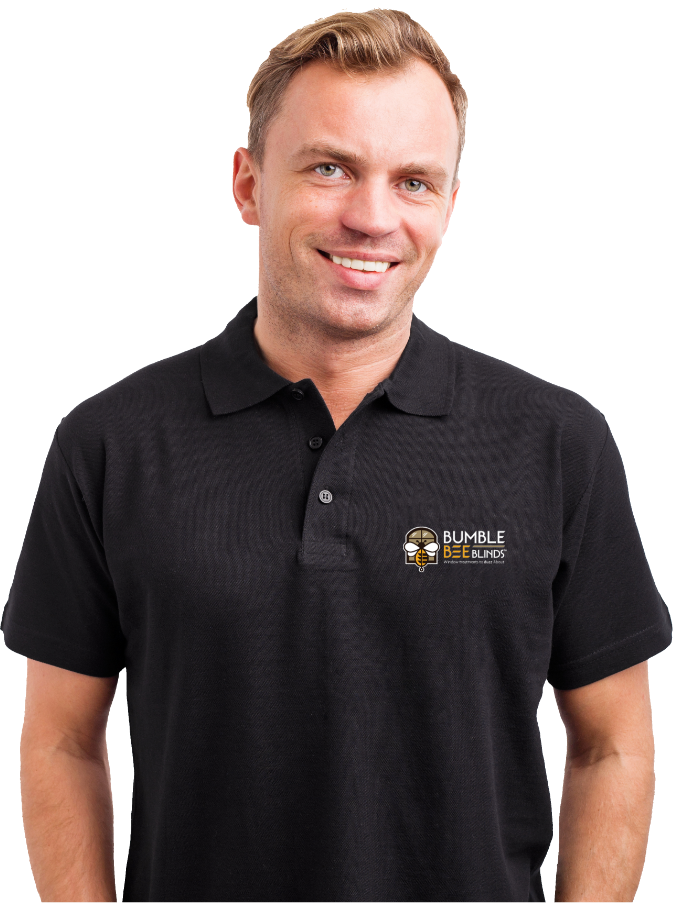 Interior Styles Best Suited for Vertical Blinds
Vertical blinds are an incredibly versatile window treatment that can be incorporated into virtually any type of space, seamlessly blending functionality and style. Their design flexibility makes them particularly suited to a variety of interior design aesthetics and architectural styles, including:
Modern: With their sleek and minimalist appeal, vertical blinds are the perfect fit for contemporary, clean-lined interiors.
Industrial: The durability and straightforward functionality of vertical blinds complement the raw, unfinished look of industrial design.
Mid-Century Modern: The simplicity and functionality of vertical blinds align well with the robust, organic forms characteristic of mid-century modern style.
Coastal: The light-diffusing properties of vertical blinds perfectly capture the breezy, open feel of coastal design, while their wide range of colors can echo seaside hues.
Minimalist: With their clean lines and straightforward functionality, vertical blinds are an ideal choice for minimalist interiors, maintaining a clutter-free aesthetic.
Bumble Bee Blinds understands that the perfect blinds are not one-size-fits-all. That's why we offer a cutting-edge visualization tool to help you envision how your chosen vertical blinds will look in your space before making a decision. This and our custom quotes will help you find the perfect fit for your home or business.

Find Your Buzz-Worthy
Window Treatments