Visualizer Tool
Picture Custom Window Treatments in Your Home
Imagine designing your dream custom window treatments without ever leaving your home. At Bumble Bee Blinds, our innovative visualizer tool allows you to do just that. Simply upload a photo of your space and play with a variety of products, fabrics, colors, and styles, see side-by-side comparisons, and feel confident about your ideas!
Creating and previewing some virtual window treatments before hand sets you up for a fun and productive meeting with our Design Consultants. Plus, you can rest easy knowing our team will take care of everything from initial measurement to hassle-free installation.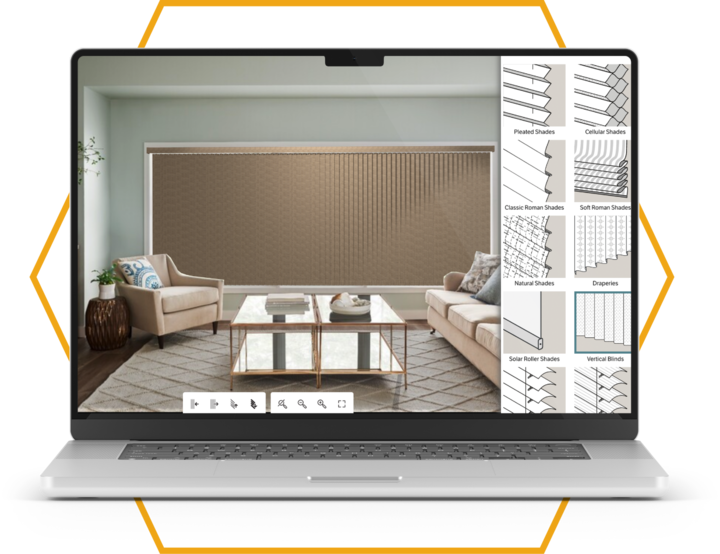 How to Use Our Visualizer Tool
Whether you know exactly what you want or need a little design inspiration, our visualizer makes it easy to preview your custom window treatments. It's also incredibly easy to use, making it a breeze to picture different styles and colors in your home.
To get started, simply follow these steps:
Upload your image or choose a room scene.
Select your product type from the variety of blinds, shades, shutters, and draperies.
Select the materials, colors, and other features you want to see.
Choose from a variety of product options.
Download a picture and product sheet of your finished window concept.
Generate a code so you can retrieve your session any time you want.
If you have questions about window treatment designs or need guidance on choosing the best window treatment for your residential or commercial property, we are here to help. At Bumble Bee Blinds, our Design Consultants are available to answer your queries and offer in-person consultations to assist you during your exploration process.
With Bumble Bee Blinds, creating personalized, stylish, and functional window treatments has never been easier. Try our visualizer tool today!
Ready for Custom Window Treatments
Ready to turn your spaces into the room of your dreams? Dive in with our visualizer tool and bring your vision to life! Once you've imagined your ideal window treatments, schedule an in-home consultation with our team to make it a reality.
Our experienced Design Consultants will guide you through the entire process and help you select the perfect products for your space. Window treatments play a crucial role in interior design, and our team is committed to helping you achieve the ideal look for your space.
Revamp your space with personalized window treatments that perfectly fit you – try our tool or dial (844) 387-1716 to schedule your consultation today!

Find Your Buzz-Worthy
Window Treatments