Commercial Window Coverings
Window Treatments Worth Buzzing About
Regardless of the business type, Bumble Bee Blinds can help you create and install a custom window treatment that'll suit your budget and brand style. With a wide selection of office blinds, sun screens, and more to choose from in various colors and styles, you can find the perfect window treatment for any room in your commercial space!
We Offer a Range of Commercial Window Coverings
From schools and daycare centers to restaurants, hotels, salons, and spas, we've helped a variety of businesses keep their residents and customers comfortable – and business looking great – through our comprehensive range of products, including:
Our expert team is here to assist you every step of the way. Trust in our design expertise and quality installation, relied upon by construction leaders and property managers. Whether you're starting a new business or renovating an existing space, we can provide and install window coverings tailored to your needs!
Don't get caught up in the hive of window treatment options. Call (844) 387-1716 to schedule a no obligation consultation for your business!
Coverings Built for Every Business
Window treatments aren't just for a specific type of business. They can enhance and complete the aesthetic of a variety of commercial spaces while providing functional benefits such as light control and privacy. Here are few examples:
Medical Offices and Hospitals: Patient comfort is paramount, and window coverings can provide privacy and light control in examination rooms and patient wards.
Educational Institutions: Classrooms, libraries, and administrative offices can all benefit from the right window treatments to control natural light and add an element of design.
Retail Stores: Well-chosen window coverings can contribute to a store's overall ambiance, attract customers, and protect merchandise from sun damage.
Hotels and Hospitality Industry: From guest rooms to lobbies and restaurants, window treatments can add a touch of elegance while helping to control light and privacy.
Offices and Corporate Buildings: In workspaces, window treatments can temper the sunlight, reduce glare on computer screens, and contribute to a professional atmosphere.
No matter your current style or creative ideas, our team at Bumble Bee Blinds is eager and ready to help you select and install the ideal window treatments for your space!

Read What People
Are Buzzing About
"They have a large selection and helped us decide on what would be best for our particular situation."

Thomas C.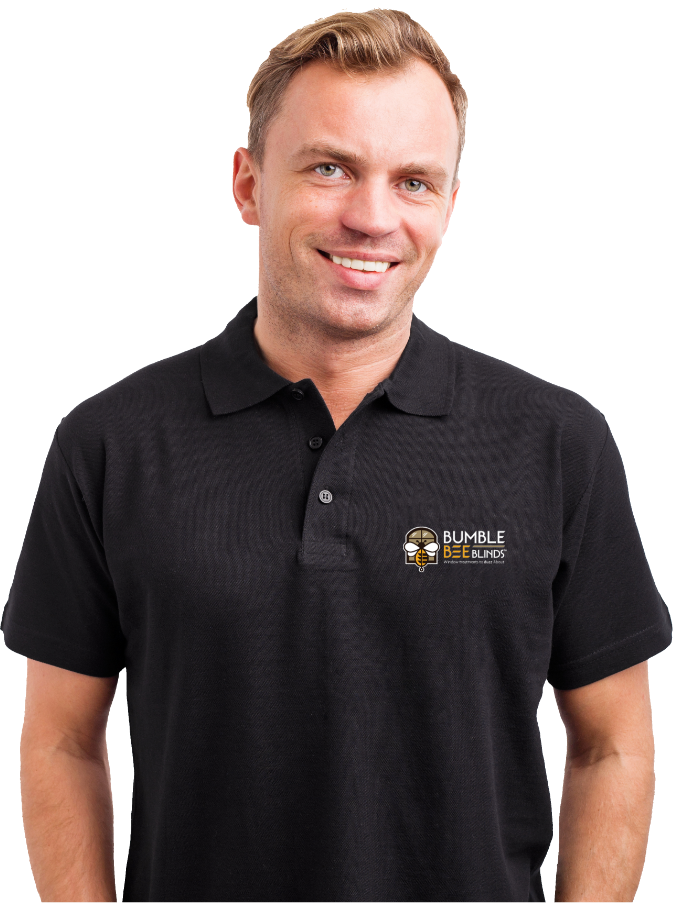 Explore Our Commercial Window Covering Installation Process
Regardless of whether you're seeking professional installation for your brand-new office blinds, or require repair and maintenance to enhance the lifespan of your existing window coverings, Bumble Bee Blinds wants to make getting commercial window covering services easier. There's a reason why we've streamlined our process:
Schedule a Consultation: We start by understanding your needs and vision during an initial consultation.
Get a Custom Estimate: Based on your specific requirements, we explore your options and provide a custom, comprehensive quote.
Installation/Repair: Our skilled team carries out the installation or repairs with meticulous attention to detail, ensuring a job done right.
Enjoy: Sit back and enjoy your professionally installed or revitalized window coverings. We're sure your staff and customers will too!
When you choose Bumble Bee Blinds for your commercial blinds and other coverings, you can trust that we'll take care of everything from start to finish – and make sure you're satisfied with the work we do. We're so confident in the quality of our products and services that we offer a no-hassle warranty for all installations.
Call us at (844) 387-1716 to get started on your commercial window covering project with a free design consultation!

Find Your Buzz-Worthy
Window Treatments