Custom Wood Blinds
Window Coverings That Blend Natural Beauty & Function
For those seeking a blend of natural aesthetics and functional design in window coverings, wood blinds serve as an exceptional choice. We at Bumble Bee Blinds weave together the organic charm of woods and the modern functionality of blinds, offering a custom addition to your living space. Trust us to revitalize your space through our design consultations and professional installation!
The Benefits of Wood Blinds
Whether you opt for natural wood blinds in the living room or faux wood blinds in the bathroom, there are numerous benefits to having wood blinds as your window coverings. These include:
Durability: Made from robust materials, wood blinds are built to last. They outperform plastic or vinyl blinds, which tend to deteriorate over time.
Energy Efficiency: These blinds offer excellent insulation, keeping your home warm in winter and cool during summer, resulting in energy savings.
Privacy and Light Control: Wood blinds provide superior privacy and allow you to control the amount of light entering your room.
Look Great: With their timeless charm, wood blinds enhance any room's beauty. Their diverse color range and finishes can complement any interior décor.
No matter what type of blinds appeal to you, trust in Bumble Bee Blinds to offer a complete solution for your next window treatment. And with a warranty backing our products, you can have peace of mind knowing that your blinds will last!
Ready to add wood blinds to your space? Dial (844) 387-1716 for a free design consultation!

Read What People
Are Buzzing About
"They have a large selection and helped us decide on what would be best for our particular situation."

Thomas C.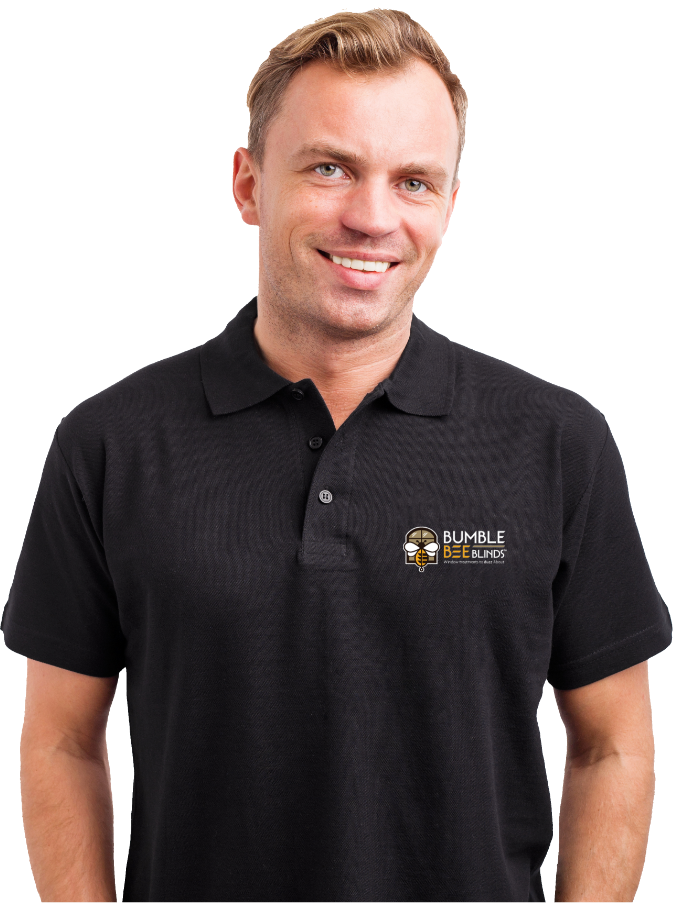 Best Interior Styles of Wood Blinds
Wood blinds are versatile and can complement a myriad of interior design and architectural styles. Their natural look and warmth can tie together any design, adding an element of sophistication and elegance. Here are some popular interior design styles where wood window blinds fit seamlessly:
Traditional: The timeless design of traditional homes pairs well with the classic appeal of wood blinds, enhancing the richness and warmth of the space.
Rustic: Wood blinds effortlessly complement the natural, earthy elements in rustic décor, reinforcing the charm and simplicity of country living.
Modern: The simplicity and sleek design of wood blinds fit well with the clean lines and minimalistic features of modern interiors.
Farmhouse: With their natural aesthetic, wood blinds are an excellent choice to complete the comfortable, vintage appeal of a farmhouse style.
Coastal: Wood blinds can add a touch of natural, seaside-inspired texture to coastal designs, enhancing the light, airy feel of these spaces.
There's no wonder why wood blinds have stood the test of time – they're an ideal choice for any interior style! With the help of Bumble Bee Blinds, you can select the perfect blinds for your home with our full range of custom design and installation services.

Find Your Buzz-Worthy
Window Treatments