Custom Shades
Filter Light Your Way with Tailor-Made Window Treatments
Is your search for the perfect window shades turning into a multi-store quest? Say goodbye to the stress and welcome Bumble Bee Blinds – your one stop shop for custom shades! Designed to meet your needs, all of our window coverings come with professional installation and a warranty to give you peace of mind long after service!
Benefits of Custom Window Shades
While all shades offer some level of light control and privacy, opting for custom window shades elevates your experience, bringing unique benefits tailored to your specific needs. Some major benefits of custom window shades include:
Personalized Aesthetics: Custom shades are tailored to your taste and interior décor, ensuring a perfect match that enhances your space's ambiance.
Precise Fit: Unlike off-the-shelf options, custom shades are designed and constructed to fit your windows perfectly, eliminating gaps and ensuring better light control.
Superior Quality: Custom shades are made with high-grade materials and superior craftsmanship, offering better durability and longevity.
Energy Efficiency: Custom shades can improve your home's insulation, reducing heat loss in winter and heat gain in summer, contributing to energy savings.
For the best custom window shades, contact Bumble Bee Blinds for a free design consultation. We'll measure your windows and guide you through our range of materials, colors, motorization options, and more to ensure the perfect fit for your custom shades.
Dial (844) 387-1716 to get things started with a free design consultation!

Read What People
Are Buzzing About
"They have a large selection and helped us decide on what would be best for our particular situation."

Thomas C.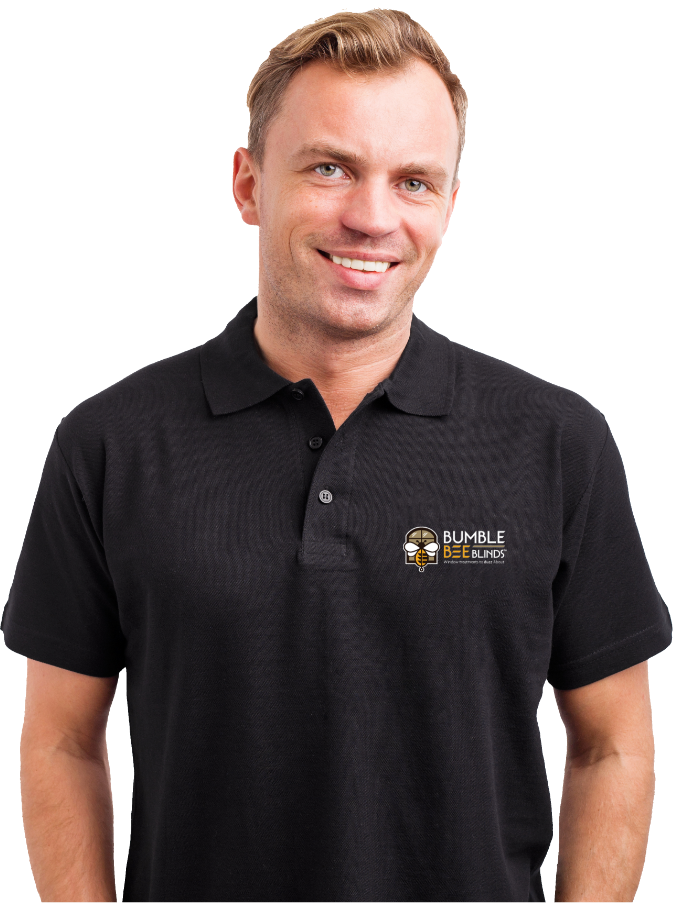 Explore Our Custom Shades Installation Process
Bumble Bee Blinds is dedicated to delivering a seamless and exceptionally efficient experience when it comes to designing and installing custom window shades for your home or business. Here's what you can anticipate:
Request a Consultation: The first step to your custom window treatments begins with a consultation with our design experts. We'll listen to your needs, discuss your options, and help guide you toward window shades that perfectly match your style and functionality requirements.
Get a Custom Quote: After understanding your specifications, we'll provide a custom quote, incorporating all your design preferences and ensuring that there are no surprise costs. Our transparent pricing policy ensures that you get the best value for your investment.
Installation: Our trained and professional professionals will handle the fitting and securing of your window shades, ensuring they fit perfectly, function smoothly, and look fantastic. We pride ourselves on a hassle-free and clean process.
Post Support: Our service does not end with the installation. We offer comprehensive post-installation repair and maintenance, plus stand by our products with a warranty. If any issue arises, we are just a call away!
Along the way, you'll also benefit from our visualizer tool, letting you see exactly what your custom window shades will look like before any work is done. We want you to be confident in your new window treatment – and confident in the team installing them!


Find Your Buzz-Worthy
Window Treatments