Custom Blinds
Window Treatments Designed Around Your Home or Office
Navigating the vast array of window blinds can be overwhelming. At Bumble Bee Blinds, we simplify this process, ensuring you find the perfect fit for your home or office. Our expert team is ready to assist you in selecting from premium materials like vinyl, wood, or aluminum, and customizing it to the unique style of your space. Experience the ease and confidence of finding and installing window blinds with us!
Benefits of Custom Window Blinds
Custom window blinds offer more than just aesthetic appeal. They bring a host of benefits that enhance your spaces and elevate your living experience.
Perfect Fit: Custom blinds assure a flawless fit for your windows, eliminating gaps or uneven coverage and enhancing your space's aesthetic appeal.
More Options: With custom blinds, you can explore a vast array of styles, designs, and features, crafting a unique look for your home.
Higher Quality: Typically surpassing ready-made blinds in quality, custom blinds boast superior materials and construction, ensuring durability and longevity.
Increased Energy Efficiency: Custom blinds boost your home's energy efficiency, trapping heat during winter and blocking sunlight in summer, ultimately reducing your energy bills.
To get started on your custom window blinds, simply let our team know! Bumble Bee Blinds is proud to offer free design consultations beforehand, helping us understand your vision and deliver a comprehensive solution.
Contact us at (844) 387-1716 for a free design consultation!


Read What People
Are Buzzing About
"They have a large selection and helped us decide on what would be best for our particular situation."

Thomas C.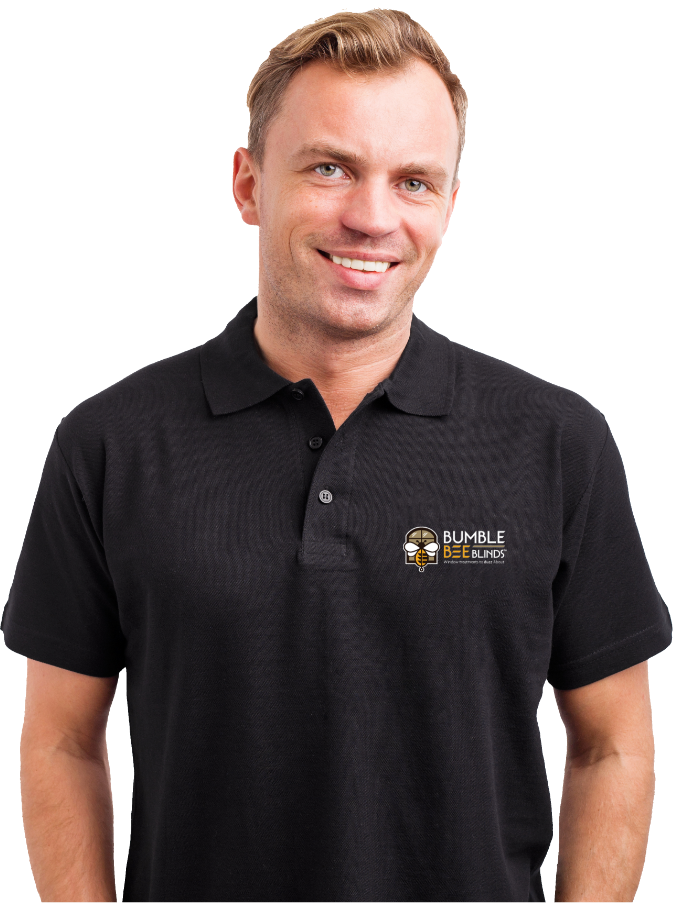 Explore Our Custom Blinds Installation Process
Bumble Bee Blinds takes pride in providing a hassle-free process, making sure you discover the ideal fit for your window treatments. Let us walk you through what you can expect from our exceptional services:
Consultation Request: Begin your journey to custom window treatments with a design consultation. We bring the samples and listen to your ideas.
Customized Quote: Once we've grasped your specifications, we generate a personalized quote, encompassing all your design choices and clearing laying out all costs.
Installation: Our professional experts handle the installation, making sure your blinds are a perfect fit and operate seamlessly.
Aftercare: We provide comprehensive post-installation maintenance and repair, backed by our product warranty. Should any issue arise, we're just a phone call away!
Throughout the process, you can take advantage of our visualizer tool, allowing you to preview your custom window blinds before any work commences. We want you to feel confident in your new window treatment – and in the team bringing them to life!

Find Your Buzz-Worthy
Window Treatments