Draperies, Curtains, & Hardware
Finish Your Look with a Soft Window Covering
Elevate your windows witth drapes and curtains from Bumble Bee Blinds! Whether you're drawn to the simplicity of basic rods and tracks or the usefulness of blackout curtains and sheer panels, our expert team is here to guide you. With a curated selection from renowned brands, our offerings encompass a spectrum of styles, lengths, colors, and patterns. Together, we'll design a solution that harmonizes light control, privacy, and aesthetics, transforming your space one window at a time!
Types of Drapes & Curtains We Offer
Every window treatment is different, and so is every person's preference. We carry a variety of drapes, curtains, and hardware, ready to be customized in various styles, materials, and patterns to suit your individual style, including:
Custom Drapes and Curtains: Tailored window coverings designed to fit your unique style and needs.
Drapery and Curtain Panels: Elegant fabric panels that add beauty and privacy to your windows.
Hardware: Essential accessories and fixtures for hanging and securing drapes and curtains.
Get a no-obligation consultation with our experts to explore the ideal window treatment for your space. We'll assist with style, material, and pattern choices, ensuring a tailored transformation!
Call us at (844) 387-1716 to request your free design consultation today!
Interior Styles That Benefit from Drapes & Curtains
Soft window coverings, including drapes and curtains, are versatile additions to any space. Their ability to unify décor elements, control light, and provide privacy makes them an excellent choice for a multitude of interior design and architectural styles. Here are a few styles that greatly benefit from these soft window treatments:
Traditional: This timeless design highlights elegance and comfort, with drapes and curtains adding depth and warmth.
Contemporary: In modern, minimalist spaces, sleek and simple curtains provide a soft contrast to angular architecture.
Rustic: Thick, heavy drapes can complement the organic textures and earthy colors typical of this style.
Industrial: Lightweight, sheer curtains can soften the stark aesthetics of an industrial design while allowing ample natural light.
Bohemian: Eclectic and free-spirited, this style embraces bold patterns and vibrant colors, which can be reflected in the choice of drapes or curtains.
Unsure where to start? Our Design Consultants are here to guide you. We'll explore all of your options and even use our visualizer tool for a digital preview of your window treatment, ensuring the right choice before final decisions are made.
How to Get Curtain Services from Bumble Bee Blinds
Blackout curtains are great. Fighting with curtain rods is not. Instead, turn to our team for help throughout the entire process! From design to installation, our team will handle it all. We can even handle any repair and maintenance needed to extend the life of your drapes, curtains, or hardware. Here's how the Bumble Bee Blinds process works:
Schedule a consultation: One of our Design Consultants will spend the time to learn about your curtain ideas, drape dreams, and make plenty of measurements.
Receive a quote: After we meet, we'll provide you with a quote for exactly what's needed from materials to installation.
Installation/Repair: When you're ready, we'll be back to handle your repair or installation, following a trusted process and ensuring a flawless finish.
Keep Living Your Best Life: Don't worry about your curtains or drapes installation or repair. We'll have it done quickly, and before you know it, you'll be relaxing in comfort.
When you choose Bumble Bee Blinds, you're not just choosing high-quality drapes, curtains, or hardware – you're investing in peace of mind. We stand behind our products and services with an extensive warranty that guarantees both style and function for years to come!
Transform your hive with a custom, beautiful window covering. Call (844) 387-1716 to request your free design consultation!
The Bumble Bee
Blinds Advantage Four Reasons to Choose Our
Industry-Leading Team
Customized Solutions

Window treatment solutions designed for your home's unique needs and style.

Free Consultations

Enjoy in-home consultations with our experts to determine the best solution for your home.

Professional Installation

Our certified and trained installers will install your custom treatments on a schedule that works for you.

Prompt Communication

Clear and prompt communication is the cornerstone for understanding your needs and bringing your vision to life.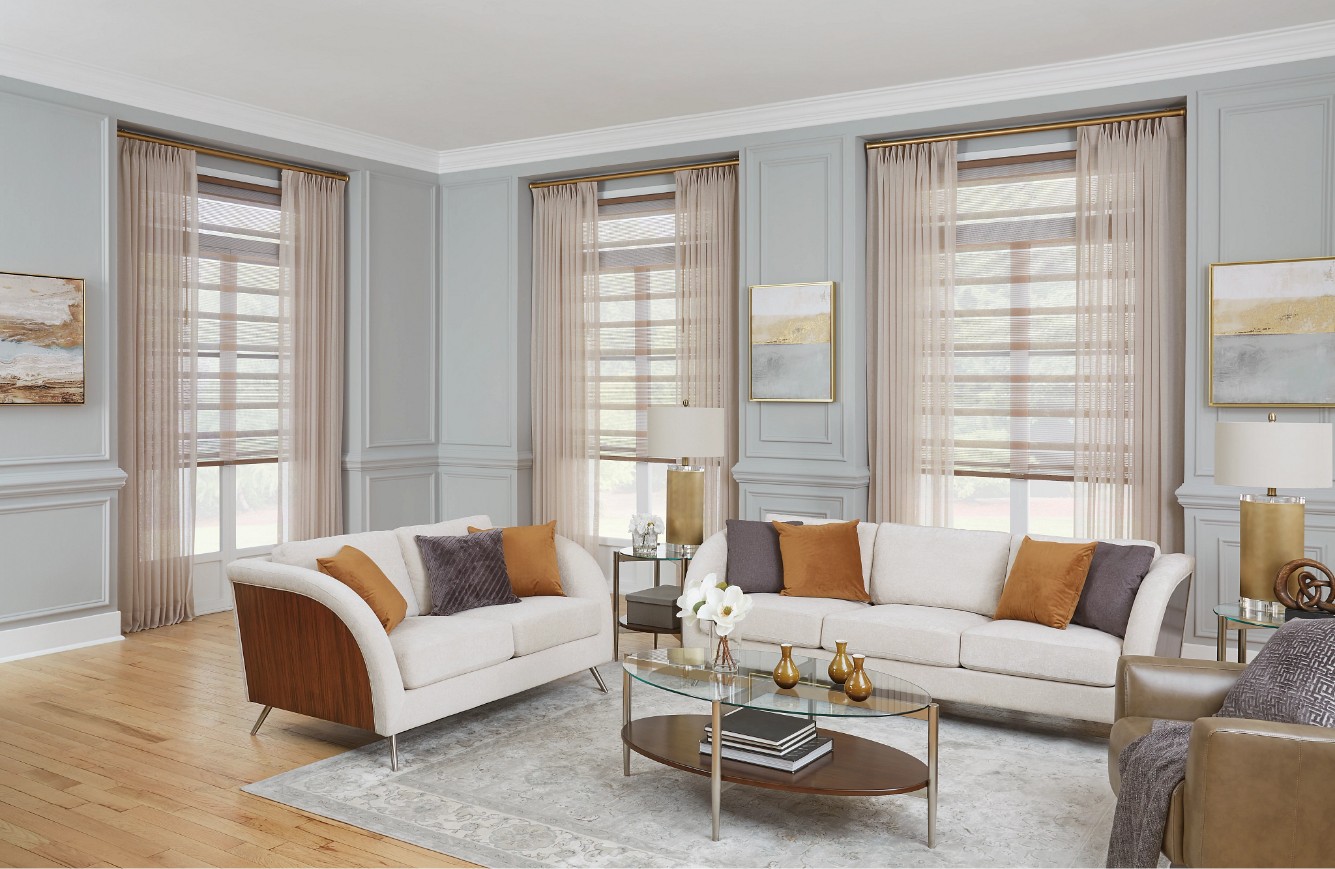 Find Your Buzz-Worthy
Window Treatments