Blind Repair
Protect the Look & Function of Your Window Blinds
Experience the rejuvenation of your timeless window coverings with Bumble Bee Blinds's blind repair services. We bring life back to aluminum, vertical, vinyl, and other types of blinds, mending everything from bent or broken slats to frayed or tangled cords. No matter where you purchased them, trust us to restore your blind's style and function!
Common Repairs for Window Blinds
While window blinds can be durable and long-lasting for a decade or more, they can suffer from the rigors of daily use and unexpected incidents. Here are some of the most frequent issues homeowners encounter with window blinds:
Damaged or bent slats
Malfunctioning cord mechanisms
Frayed or torn ladder strings
Uneven or stuck blinds when raising or lowering
Of course, this is only a snapshot of the common types of blind repairs we can handle at Bumble Bee Blinds. Our team of experts offers a range of solutions, from minor adjustments to major overhauls, to get things working again. And if a replacement is needed, we can help with that, too!
Call us today at (844) 387-1716 to request your blind repair from Bumble Bee Blinds!

Read What People
Are Buzzing About
"They have a large selection and helped us decide on what would be best for our particular situation."

Thomas C.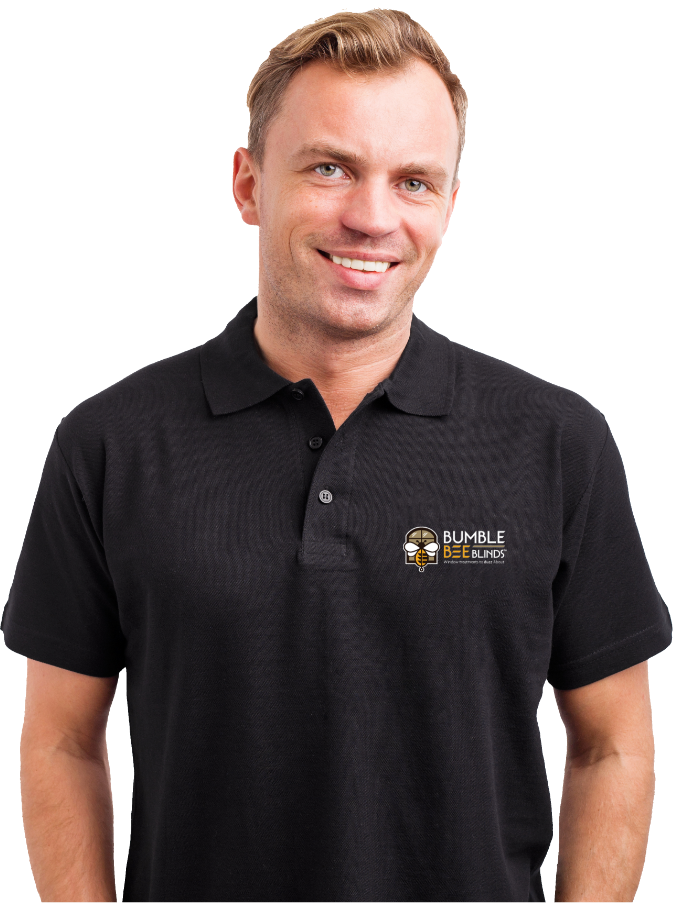 The Benefits of Professional Blind Repair
Often, attempting to repair blinds on your own can lead to unintended consequences - you might exacerbate the original problem or even cause new ones, costing both time and money. This is when the value of professional blind repair becomes undeniable. By choosing professional services offered by Bumble Bee Blinds, you can experience the following benefits:
Expertise and Experience: Professionals are knowledgeable about different types of blinds and their unique repair needs. Their experience allows them to diagnose and effectively fix issues quickly.
Quality Service: Professionals provide quality assurance. The repair is done right the first time, preventing redundant work and ensuring your blinds function perfectly.
Saves Time and Money: DIY solutions can often lead to more damage and unnecessary costs. A professional service fixes the issue promptly without the risk of further damage.
Extend Use: Instead of replacing old blinds, a professional repair job can restore the aesthetic and functionality of your window treatments for years to come.
At Bumble Bee Blinds, we strive to breathe life back into your blinds, but understand some damages may be irreparable. In such cases, trust us to guide you through the selection and installation of suitable replacements. Our commitment is to ensure your windows remain a stylish beacon of functionality, offering optimal light control for your home!

Find Your Buzz-Worthy
Window Treatments